Discussion Starter
•
#1
•
So as the title says, I have decided to tackle a full blown prerunner build on my 2002 Tundra 4.7. With the slight disadvantage of living in New England and being 1000's of miles from the nearest expert, I'm attempting to utilize any knowledge I can gain online as well as my own experience to build one bad Tundra. The main goal? To make this truck handle ANYTHING I decide to throw at it. So lets get started.
**Most Recent Picture**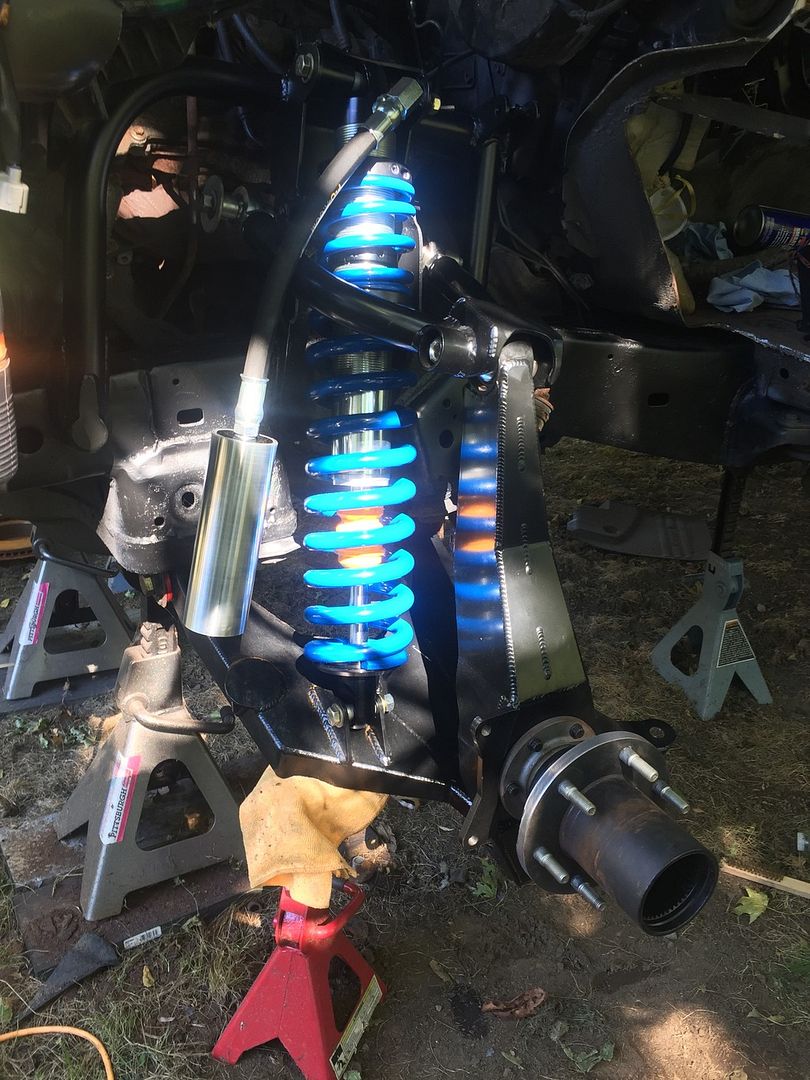 Current Modifications:
Chassis/Suspension:
-Solo Motorsports XLT long travel kit
-Heim steering upgrade
-FOA 10" coilovers
Engine:
-K&N Intake
Wheels/Tires:
-37x12.5 Mastercraft Courser MT's
-17" Steelies
-3" rear spacers
4/16 - Here is my starting point, a 2002 Tundra SR5 2wd that desperately needed some love.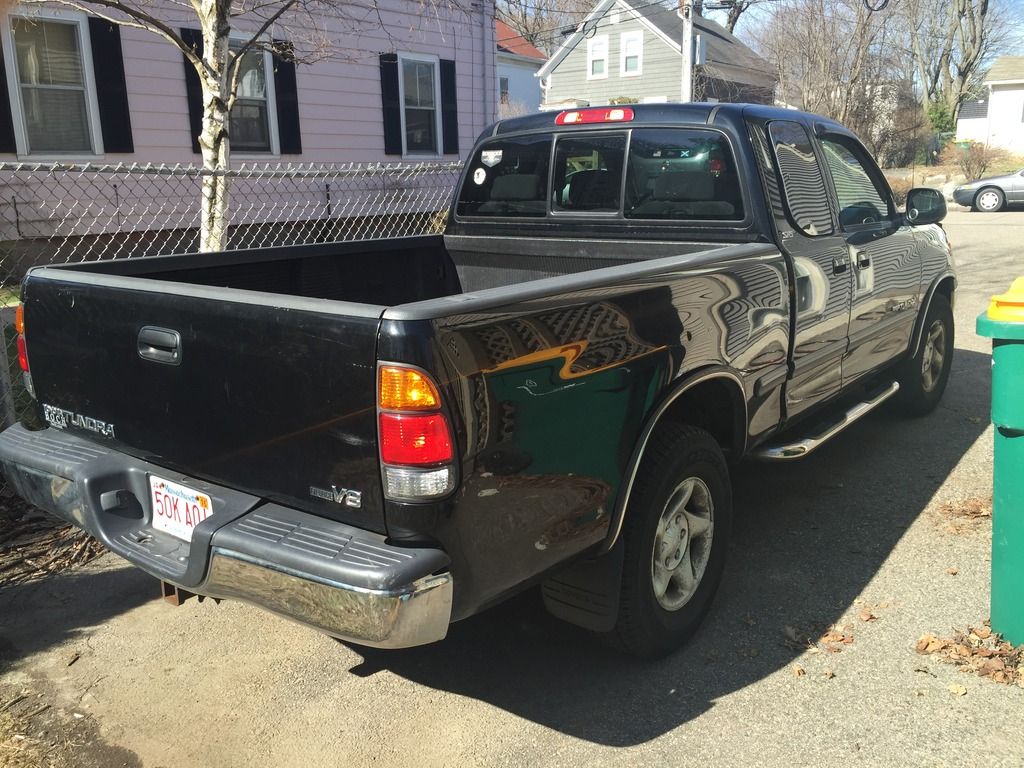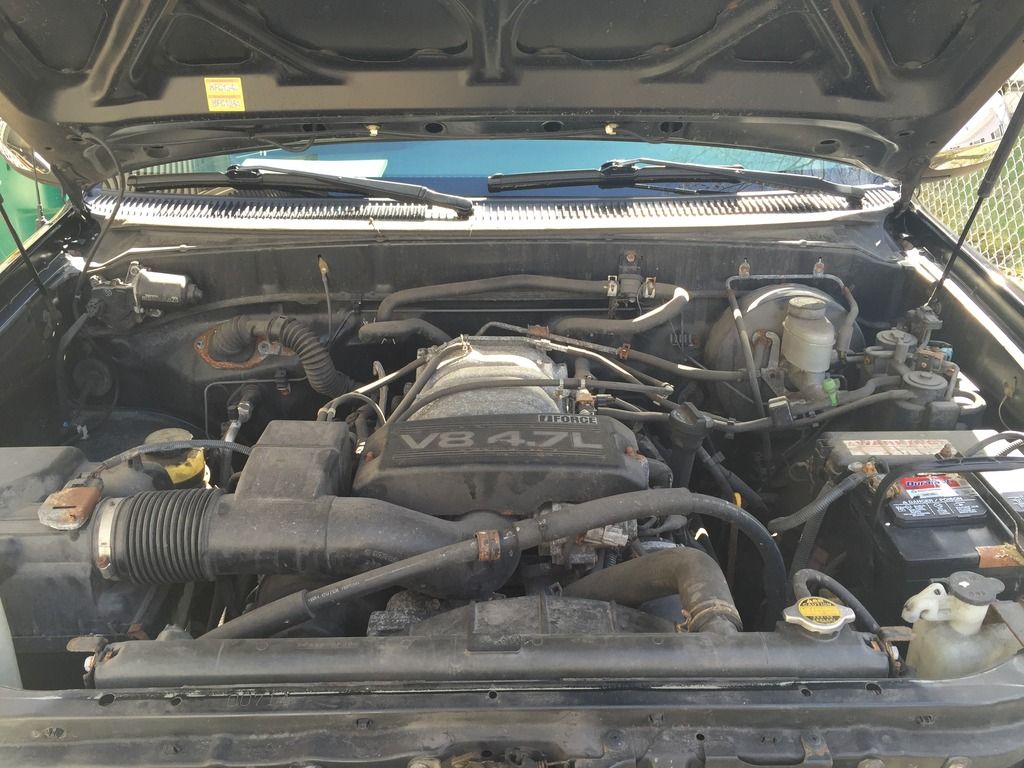 With 159k, this Tundra was on its last leg when I picked her up. It had been sitting for almost 2 years after being driven hard and poorly maintained. With 4 flat dry rotted tires, rotted brake lines, a cracked windshield, no tail pipe, and some pretty bad dents it was pretty much doomed for the junk yard. But I decided to give this poor Tundra a second chance.
I decided to start with the suspension, wheels and tires. My original thought was to stick to an easy bolt-on 13-14" travel setup for the front end. However after doing more and more research and knowing how I'm going to drive the truck I settled on this: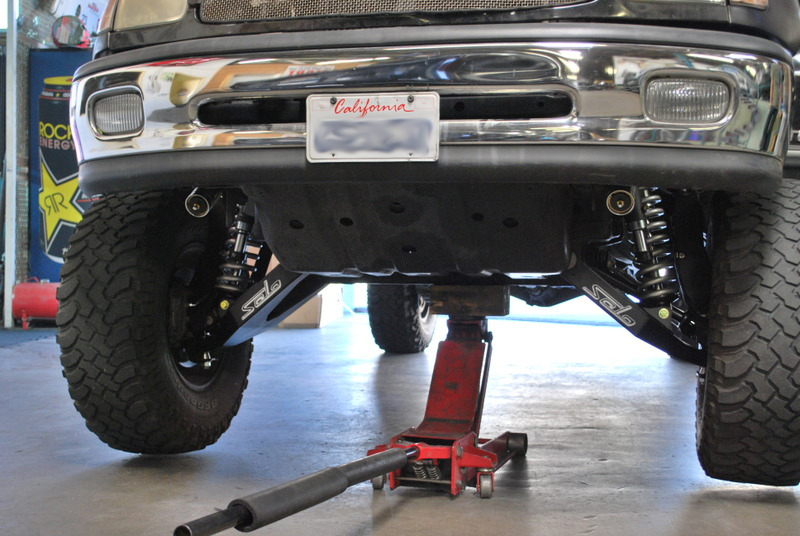 XLT kit from Solo Motorsports. I wanted as close to 20" of travel in the front as possible but still wanted the ability to run 4wd once I do the swap.
4/19 - Since I had a while to wait for the kit to come in I got started on the wheels and tires.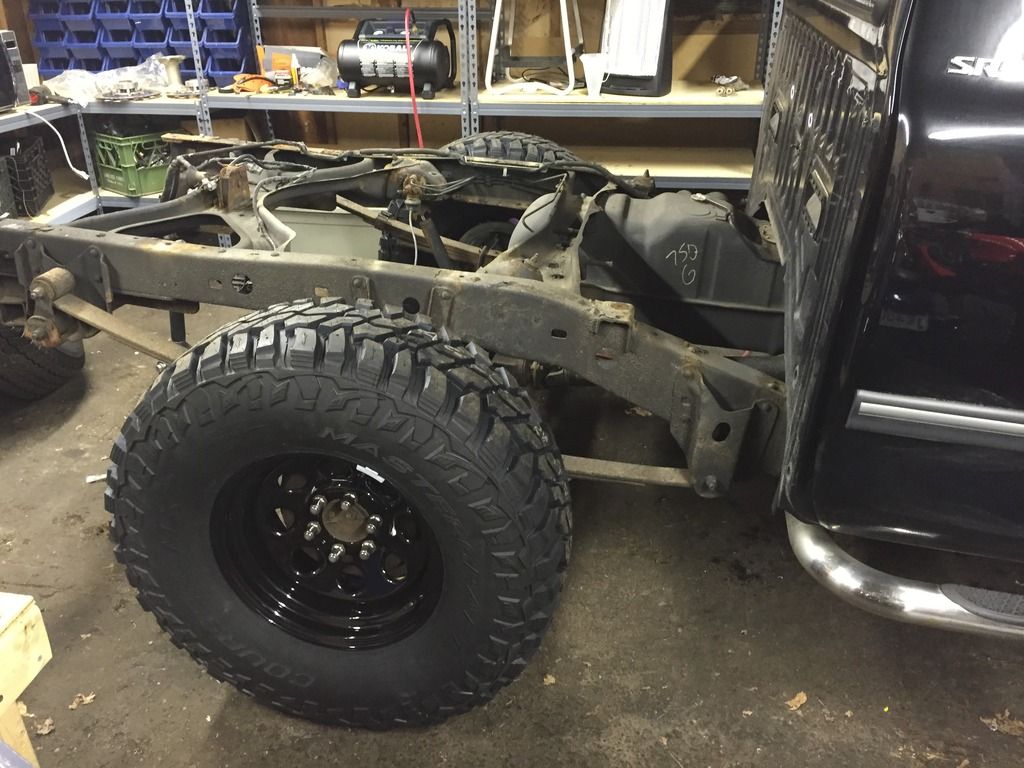 37x12.5 Mastercraft Courser MXT's on 17" steelies.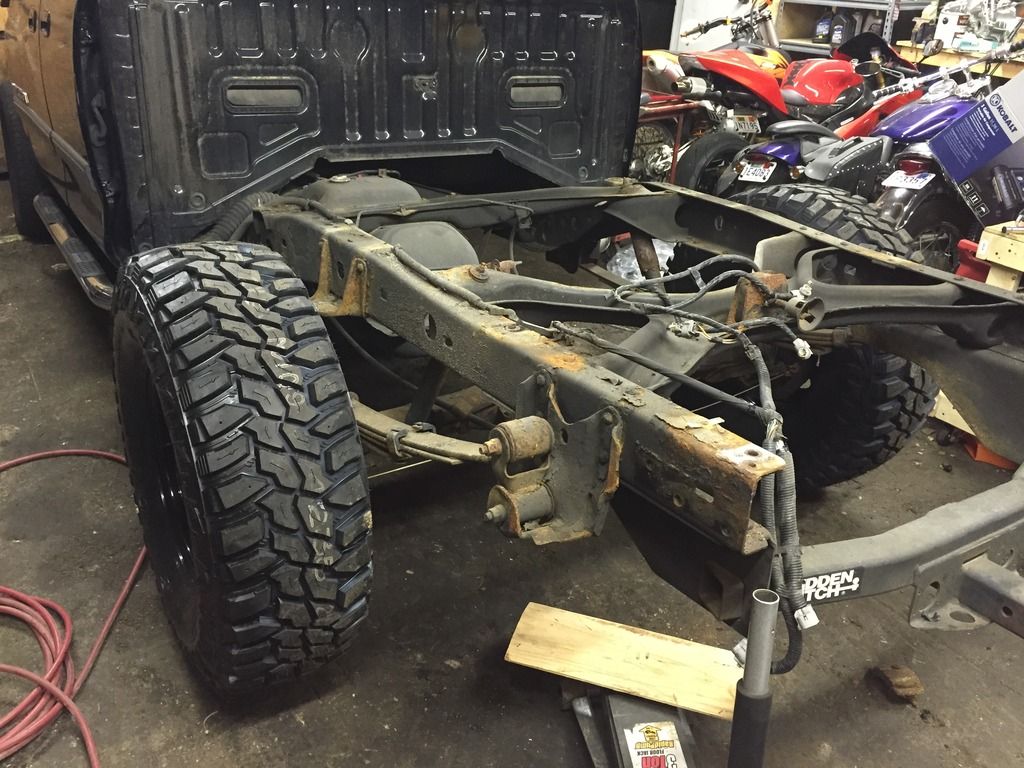 Testing how they are going to fit with the long travel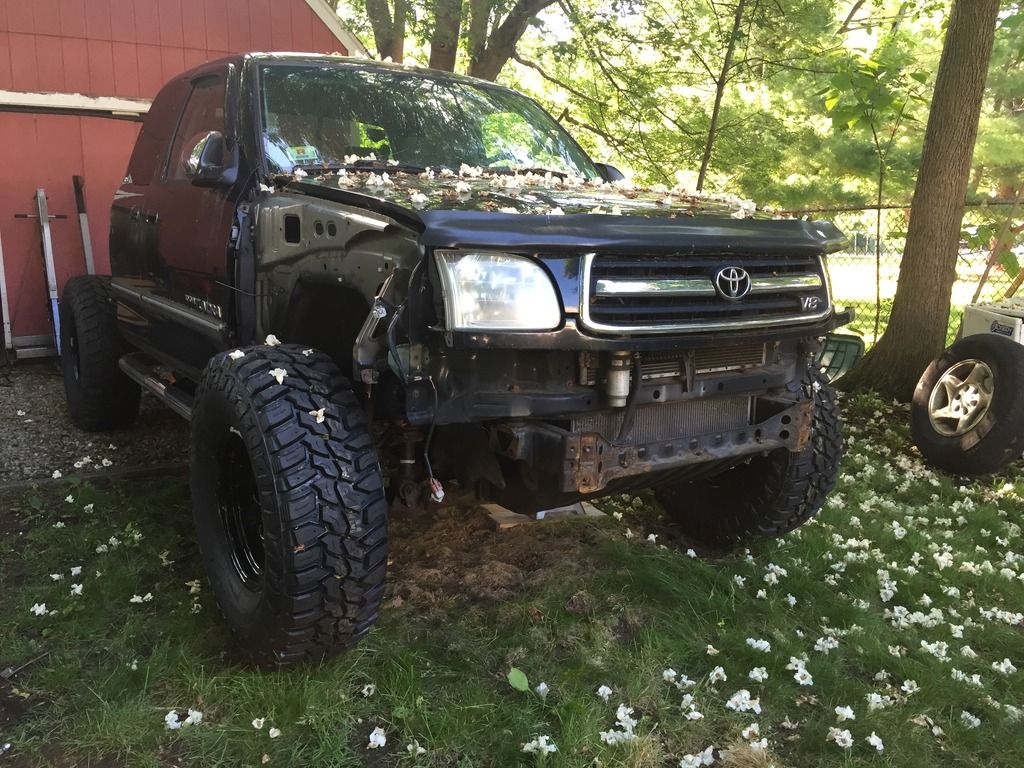 7/2 - After 10 long weeks my kit finally came in!!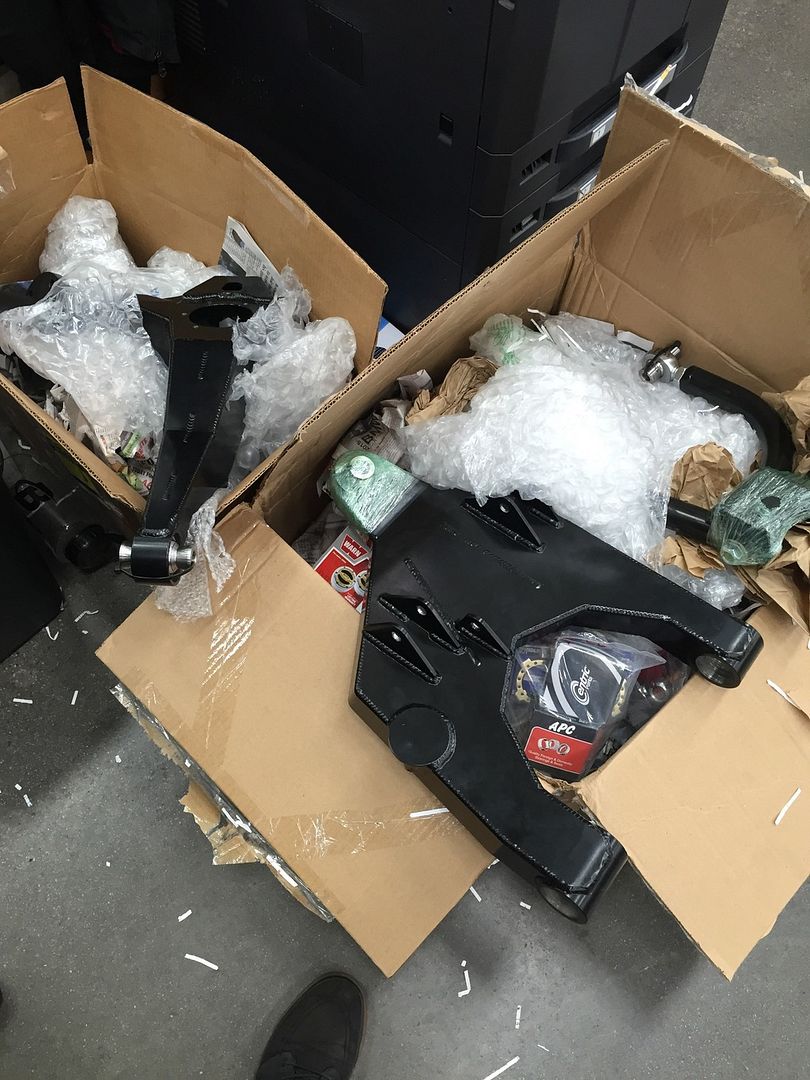 Very impressed with the quality after laying it all out. Hopefully it all works as good as it looks!
7/9 - Got one side on and realized pretty quick that I'm going to have some clearance issues with the 37's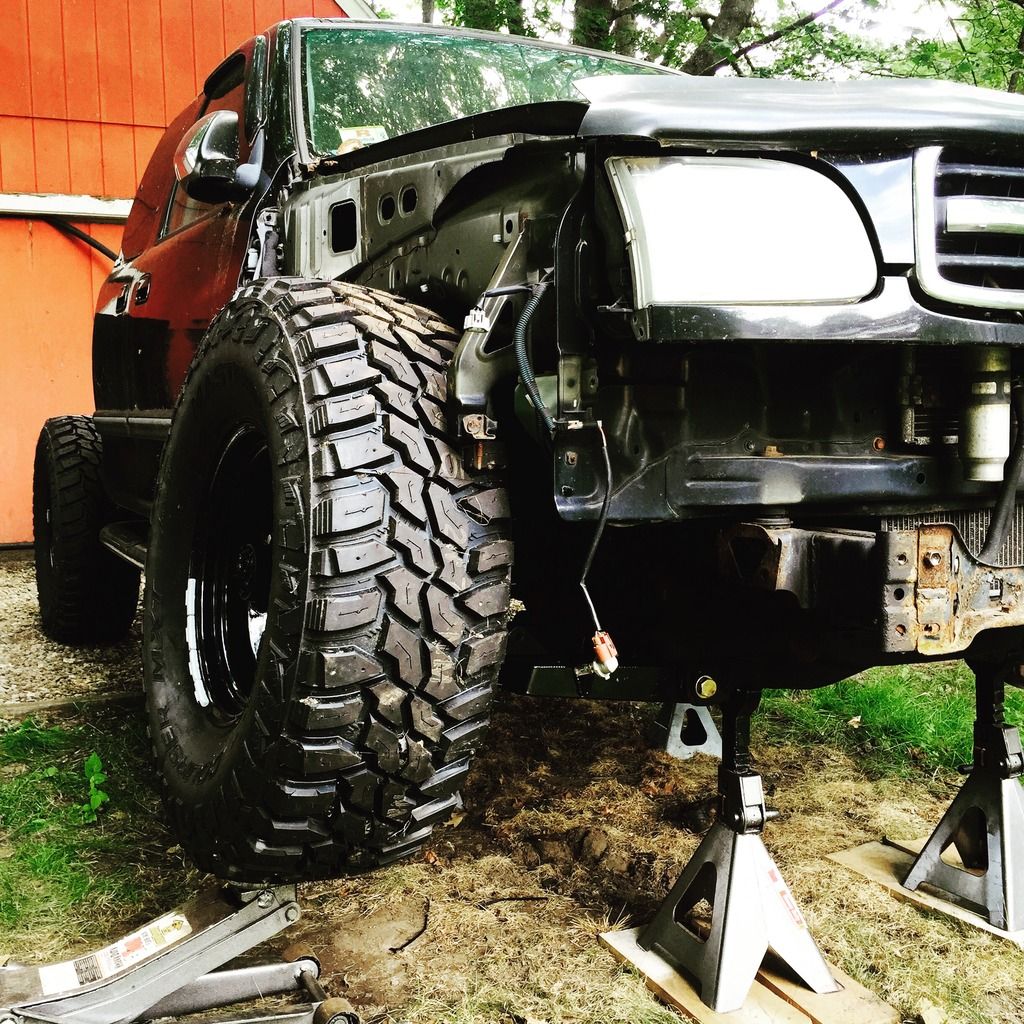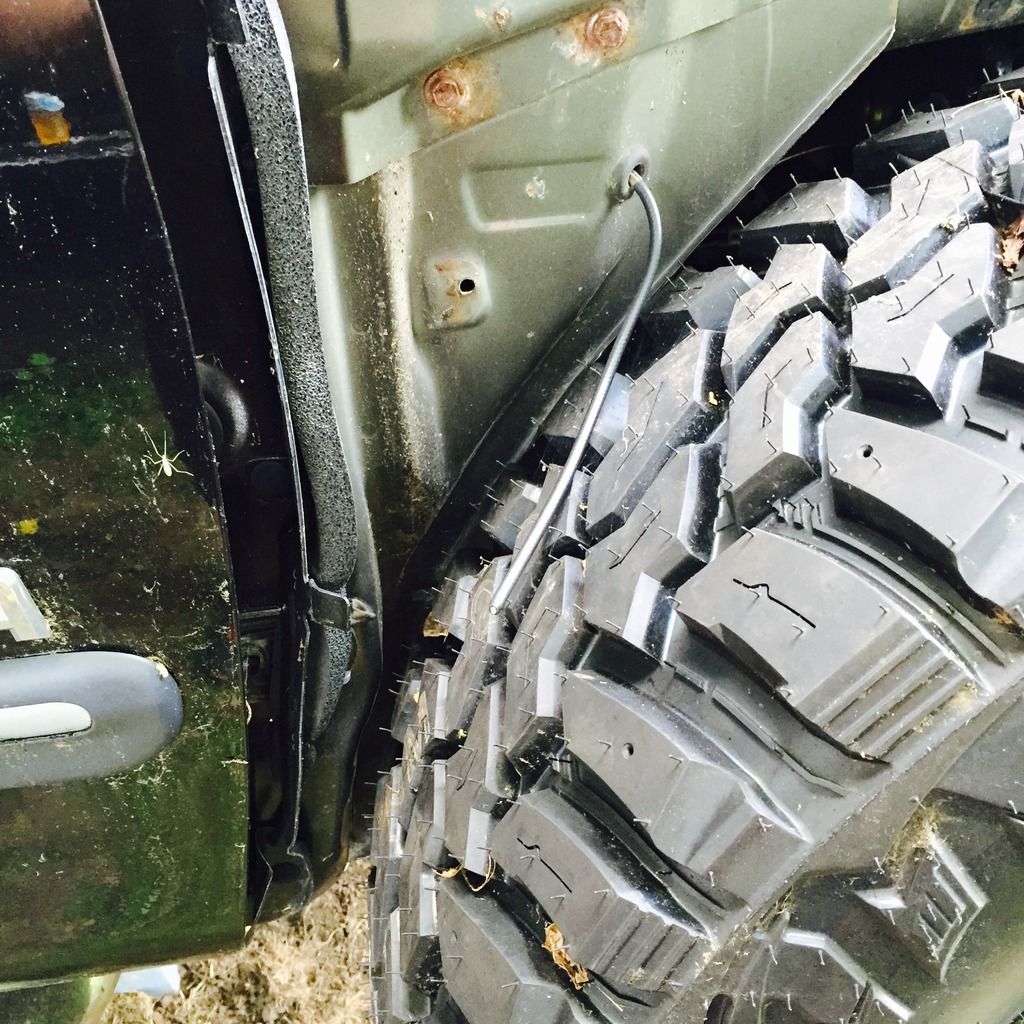 7/14 - After a little trimming I finally got the clearance I needed. Now I just need to weld in some new panels and reinforcements to make up for the material I cut out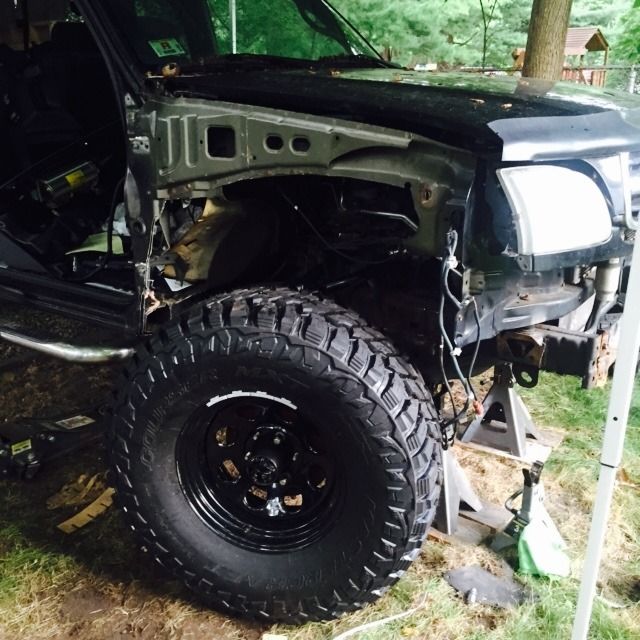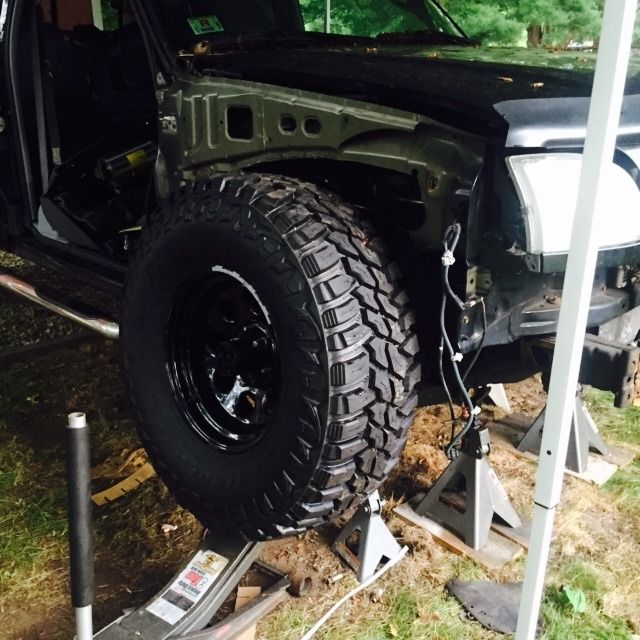 I went back and forth for 2 weeks on what front coils to run.... Decided to give these a try. I know they aren't Fox or Kings, but I was able to get a good price on exactly what I wanted with a warranty! The quality looks like it has definitely improved from their old stuff.
While I wait for springs to come in I got a few misc stuff including K&N intake and 3" rear spacers
Finally got my CO's and King Springs! These things are huge!!!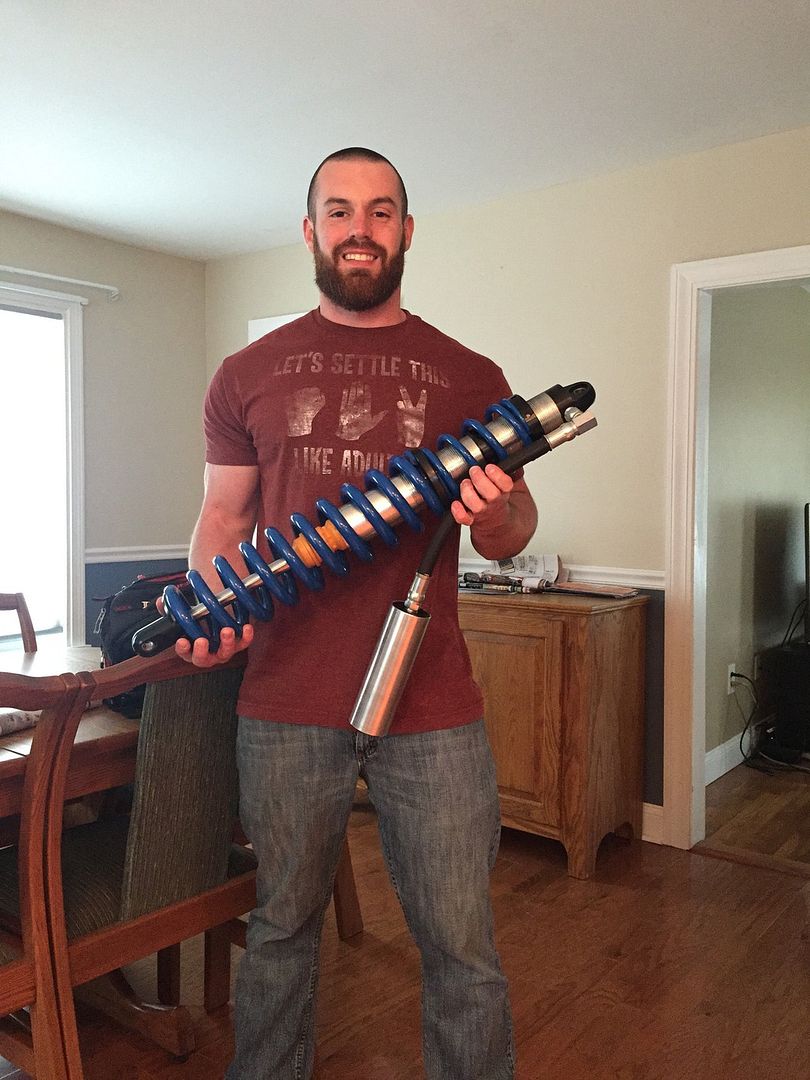 Welded in my upper shock mounts and started piecing it all together. Front suspension is almost done. Still need to work on limit straps, tie rods, and need to machine the hubs a little more to fit the wheels.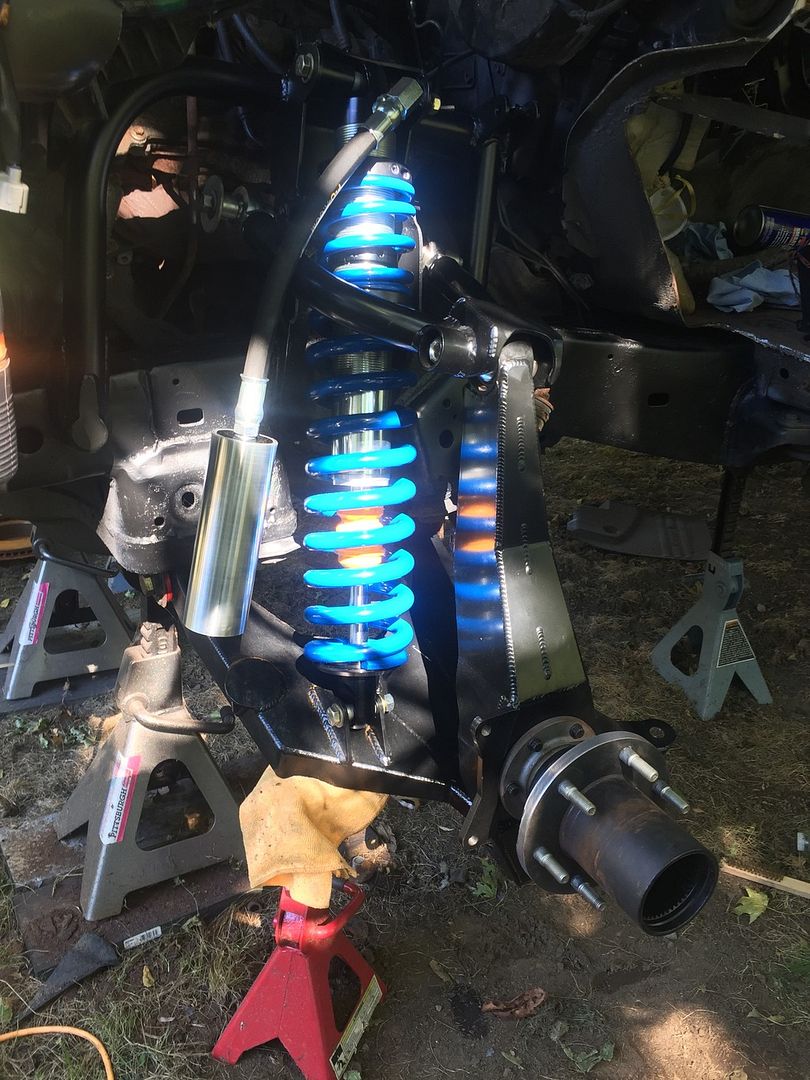 Since winter is approaching, I decided I needed a decent daily driver with 4wd. So to kill two birds with one stone, I picked up this 2001 Tundra Limited 4x4. Going to drive it for now, use it to fab my exhaust, body parts, and a few other things while I work on the rear suspension of the other truck. Then once it is sitting on all fours, this will be the donor vehicle for the 4wd swap. I got it cheap due to a blown rear end and broken leaf springs. But with a little work, I swapped the rear end and springs from my truck and I'm going to use the axle out of the limited for my build. But of course the best part about this truck is the 20" chrome rims!!!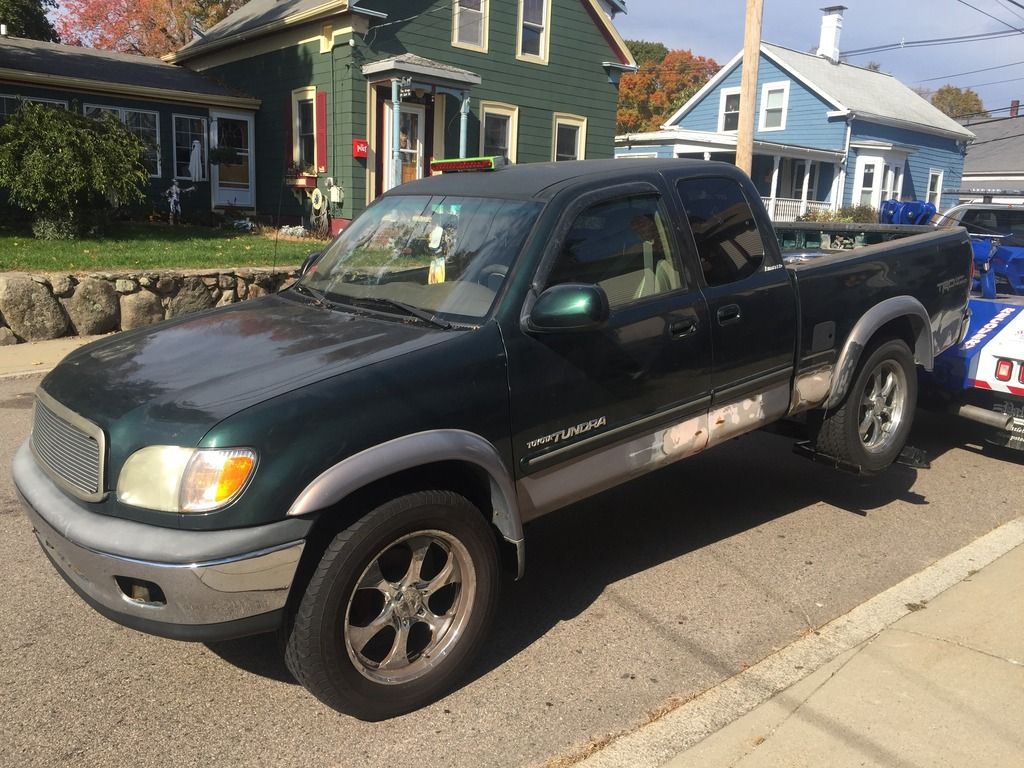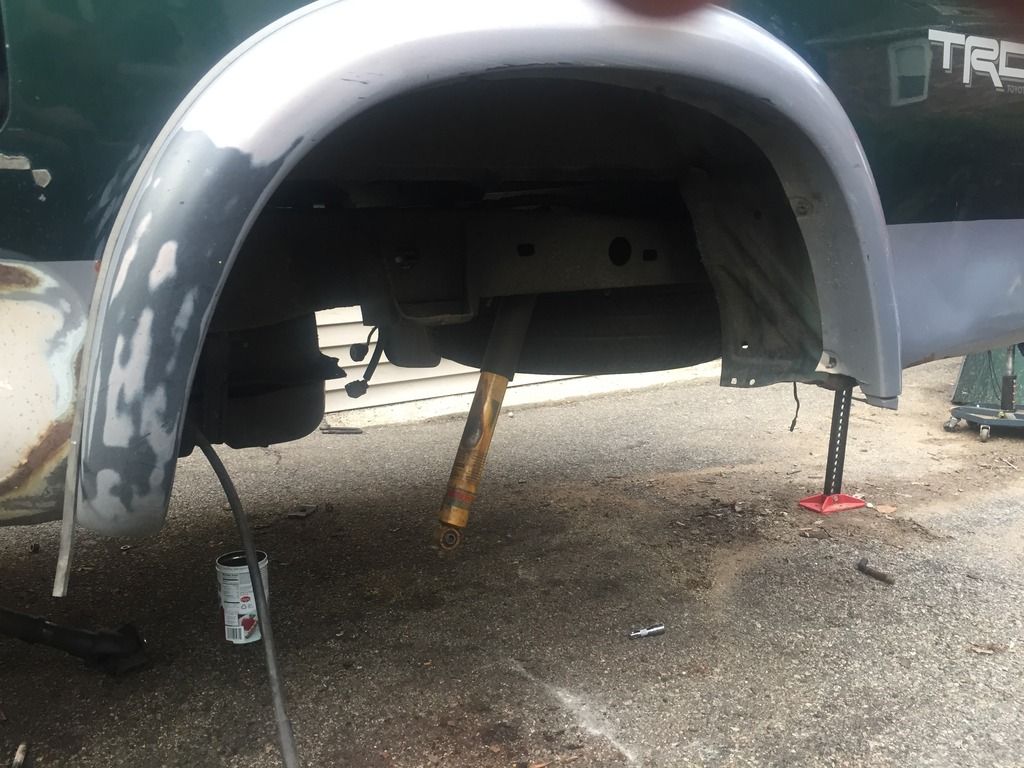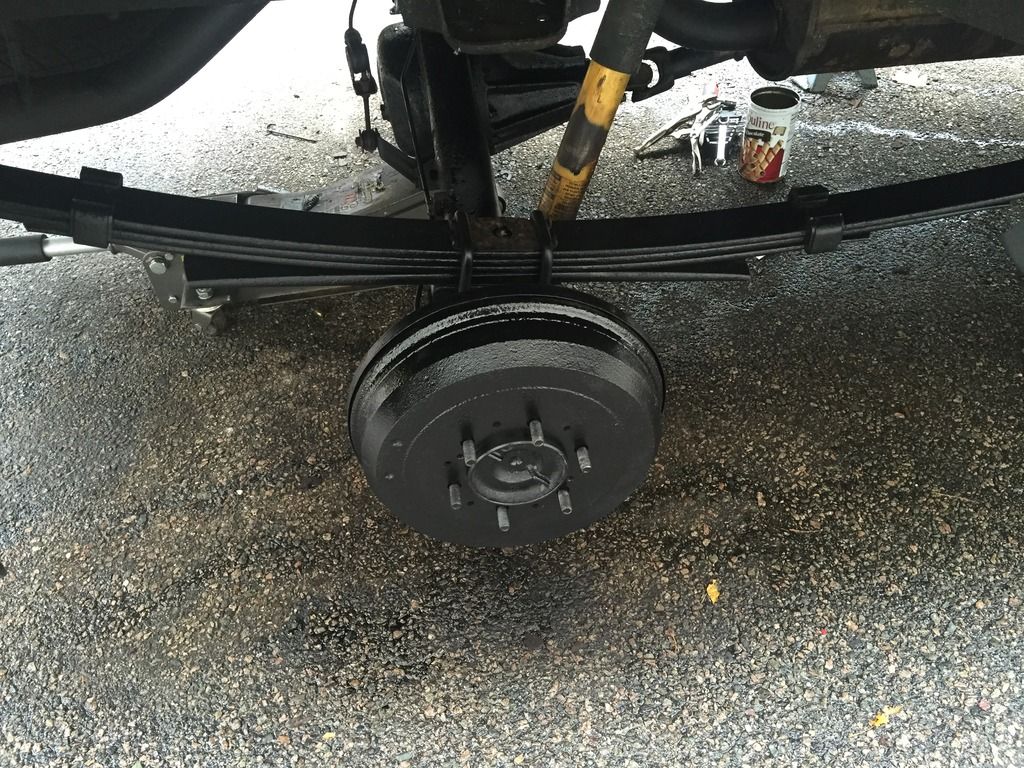 This is a rough (unfinished) CAD model of the rear suspension design. Using a mezzanine arm with a 14" coil-over mounted in the bed, I should be able to achieve 30-32" of total wheel travel