Discussion Starter
·
#1
·
4th annual Southern Tundra meet.

Saturday November 19th 2011.​
Location 1. Hooters restaurant: 5120 Corporate Blvd Baton Rouge, LA
Location 2. No problem raceway: Belle rose, LA (866)-50-RACING.
It's that time of the year again, time for another tundra and track meet Presented by IF57.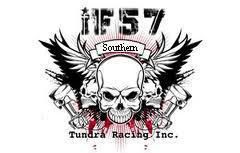 The day's events will start off at hooters at 1:30pm. Where everyone will hang out, get some mediocre grub and maybe a chicken dance or two (You know someone's going to have a birthday
). From there we will have a 43mile cruse to No problem raceway at Circuit Grand Bayou in bell rose, LA. Cruse will be down the Historic River Road, onto Highway 70 across the sunshine bridge to the racetrack. The time for which the gate's open have not been set yet, But more than likely will be 6:00-7:00pm. There will be plenty of cameras to capture every moment on the track. Everyone will be going "Dutch". Admission to the race track is $20 per vehicle (up to 8 people per vehicle).
All that is planning on attending please post up so I can get a good general guess for reservations.
Finally everyone remember we are doing this and setting it up to be a fun relaxed event. But more importantly a SAFE event.
All vehicle's running 13.99 and faster may require a SNELL Approved helmet. (Bringing extra)
Those running Drag radials even if DOT maybe require to have Drive shaft safety loop.
Those running Nitrous maybe required to have nitrous blow down system venting outside the vehicle.
All rule's are enforced by the track officials. This event and activities hereof are not related to any of the aforesaid merchants, owners,forums or sponsors. No one is or will assume responsibility for anything including injury's, vehicle damage, ETC. IT is up to YOU to use good judgment and common sense. Exact time's and events may slightly vary as we get closer to the day. remember safety is #1
Special thanks to the sponsor's who are supporting this event. Remember to check them out!
TRD Sparks
:
www.trdsparks.com
Airaid
www.AIRAID.com
Auto RX
http://www.auto-rx.com/
Yota toys (craven speed)
http://www.yotatoys.com/
Some useful links:
Home Page
La Quinta Inn - Baton Rouge, LA - Hotel in Baton Rouge
Days Inn | Baton Rouge Louisiana Hotel | Baton Rouge, LA 70809 | Near Blue Bayou Waterpark - nearby, Dixie Landin - nearby & Shopping and Entertainment - nearby
People who are planning on attending
1. Zeeya (Steve)
2. Jasonf (Blackwidow)
3. Cater
4. SouthToy
5. trikeffex
6. JDMLude ( 99 Cobra)
7. BigEd44
8. italiantundra88
9. 08TexasTundra
10. Todd RCSB (JF)
11. eddie from Morgan city (JF)
12. 1siktrd
13. jstong394