Here are the installation pictures on my 05 Tundra XSP Double Cab. Detailed instructions will be included with the module.
MAF/IAT Sensor on top of airbox
Location to be installed.
Disconnect sensor and harness clip.
Split wire loom
Remove wiring.
Mount module (looks crooked but I assure you it is level) and mock up wiring.
Soldering your connections is always the best and least bulky method.
Make proper connections according to instructions or vehicle pinout.
Verify operation, insulate connections, candy stripe wires, close loom.
Clean up harness to look like a factory install.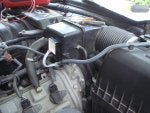 Finished.
Clean install...
Install block off plates, reset engine codes and start engine... AIP problem solved!
Typical install will probably take 1-2hrs including installing the starter relay wire and block off plates. The starter relay wire must also be connected to the starter relay by routing a 18-22AWG through the engine compartment to the bypass module.
Bypassing the system with the module will allow it to pass an emissions test. Most States will check the ODBII Monitors (emission system tests) for the vehicle. These monitors are are used to determine if all of the systems are operating properly. The bypassed Secondary Air System passes its monitor without any problems. The screenshot below is of the ODBII Monitors report for my 05 Tundra after a cold start-up (55 deg. F) and the bypass module installed. The Secondary Air System (Air Induction System) shows that it has completed and is functioning properly.
Once the drive cycle to test the EGR and 02 Sensor Heater are completed the truck should be ready for emissions test. As long as you have no other problems than a faulty AIP system the vehicle should pass an emissions test.
Emissions:
Emission standards are different for each state so please consult your state laws. Most states will not pass your vehicle if there is a check engine light, if your SAS iscausing a CEL or your vehicle is in "limp mode" you will not pass emissions.
Because it is against federal law to disable any vehicle emissions control systems or to cause to be inoperable these modules are sold for off-road use only.
The Customer shall hold harmless the Seller for any claim of damages, loss, injury, cost, expense or legal complications that may arise from the purchase, use and or installation of the SAS Bypass Module