Discussion Starter
·
#1
·
Hey Guys so once again I have a problem with my truck.
A few months ago I had the belt replaced under one of the TSB's because it was chirping. About two days after, I started to have this problem which are in the videos. The problem has been escalating, at first it would happen only during cold mornings at about 65 degrees and below. But now it happens roughly 75% whenever I start the engine no matter temperatures.
It is very loud squeeking noises that look like its coming from the fan. I think that the gears within the fans aren't coming together so there just rubbing over each other without latching on. I don't know if that made sense but its my guess. Also I noticed a burning stench, it smells like burning rubber. I'm bringing it in for service sometime this week and I have a question if this may be covered under warrenty. My 3 yr 36,00 mile warrenty is gone but will the engine warrenty cover this?
OK here are the vids, both are at cold start ups.
Number One
Heres a start up with a small fan "slip" then runs normally. Notice how fast the fan turns after the "slipping" corrects itself.
Number Two
I finally got this EXTREME case on video. This used to only last about 10 seconds but now it has clearly gotten worse. The video does not do this justice. It is very very loud, I had to cover my ears while taping this and I'm pretty sure the whole damn neighborhood wakes up. Sorry for the dark video I took it this morning but I shot the same area as the previous video.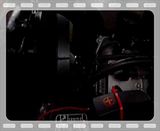 HELP & INPUT PLEASE