Discussion Starter
·
#1
·
I wanted to do this mod pretty badly since I love having the automatic a/c controls on my Touring Odyssey and wanted them in my Tundra. Reading through this thread
http://www.tundrasolutions.com/forums/tundra/134593-change-manual-c-heater-auto-digital/
to do this mod is a little sketchy because there are just bits and pieces of information here and there. I thought I'd post a complete DIY picture tutorial of how I did this mod. First here are the parts that you will need:
1. Heater A/C control -Crewmax, Limited Dual Zone (sorry I don't have the part number but you probably don't want to buy it new because it costs a fortune)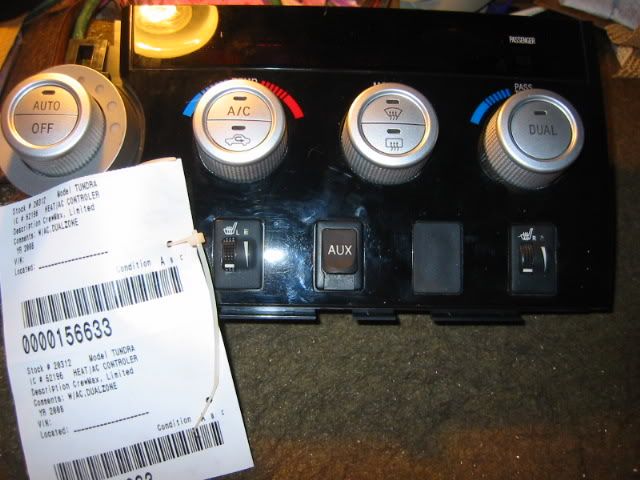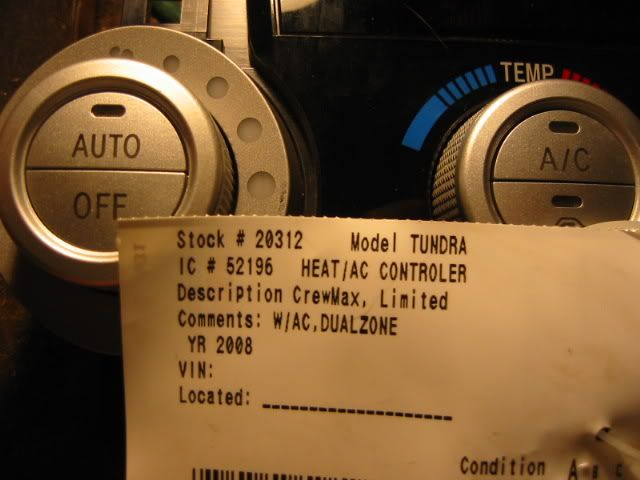 I did my part search here:
Car-Part.com--Used Auto Parts Market
This is a little tricky part to get because if you're not careful you will end up ordering a manual panel or even a Sequoia panel. One hint is to go to TruckTrader.com and look up a Limited Tundra, check out the pictures of one that has the digital panel and use that VIN to do your part search. When you get your results make sure you call the salvage yard and ask them to do a sight verification that it is indeed a digital panel. I even asked them to see if my panel still had the heated seat switches (next mod) in them which it did. Mine was $295.00.
2. A/C Amplifier -PN 88650-0C070
AMPLIFIER ASSY, AIR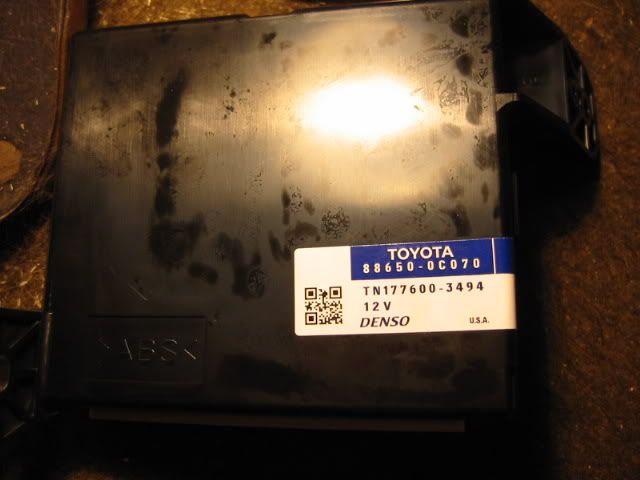 I ordered mine here:
Conicelli Parts Center
Mine was $337.19
3. aspirator pipe - PN 88897-12210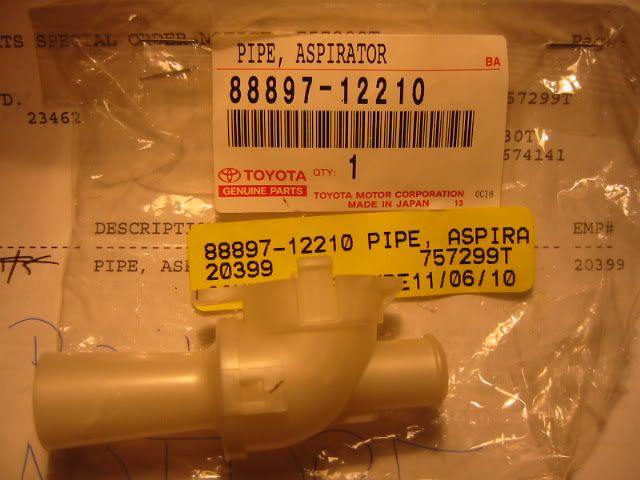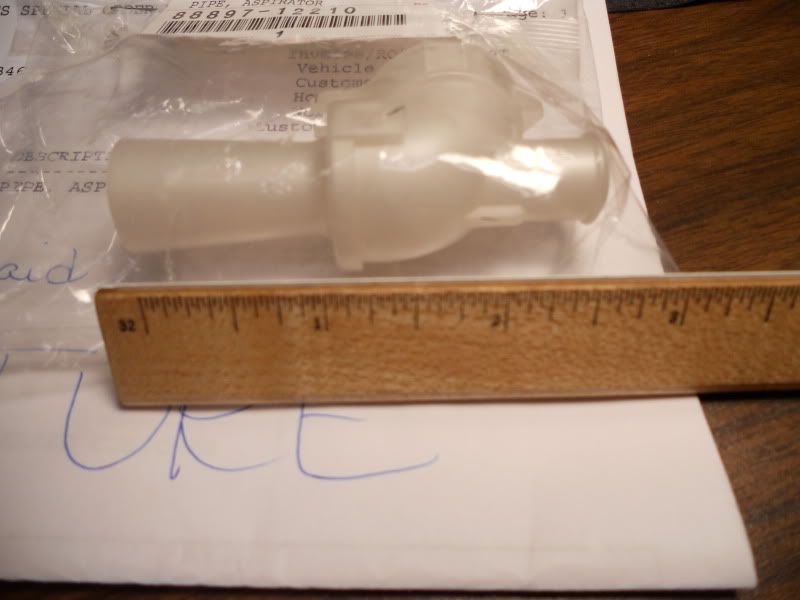 This 'Venturi tube' may be the most difficult part to find. I ordered mine locally here at a Toyota dealership and the parts girl said it was the only one left in the country. I guess I got lucky. My cost was about $35.00
4. Thermistor, cooler -PN 88625-47021
I ordered mine here:
Conicelli Parts Center
This part costs $19.01
5. Hose, air -PN 88669-0C030
I ordered mine here:
Conicelli Parts Center
This part costs $9.11
Next you'll want to swap out the panel. Here is a sweet picture tutorial for those of you who have the center console:
How to Install Stereo 2007 2008 Toyota Tundra
For those who do not have the center console use the directions here in the attached pdf:
http://www.tundrasolutions.com/forums/audio-and-stereo/132775-removing-dash-for-headunit-install/
Once you plug in your digital a/c panel leave the bottom section of your dash apart so you can install the aspirator pipe and air tube if you want. More on this later...
Next is swapping out the a/c amp. You will gain access by removing the lower glove box:
http://www.tundrasolutions.com/forums/interior-and-exterior/154110-08-glove-box-removal/
Once the glove box is removed on the left side you will see a tube coming down from the center dash. Use a crossed tip screwdriver to remove the one screw holding that in. Now unscrew the two screws holding in the A/C amp aka ECU.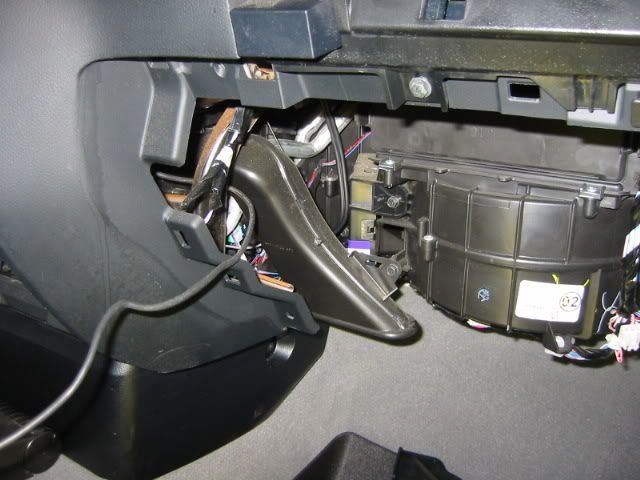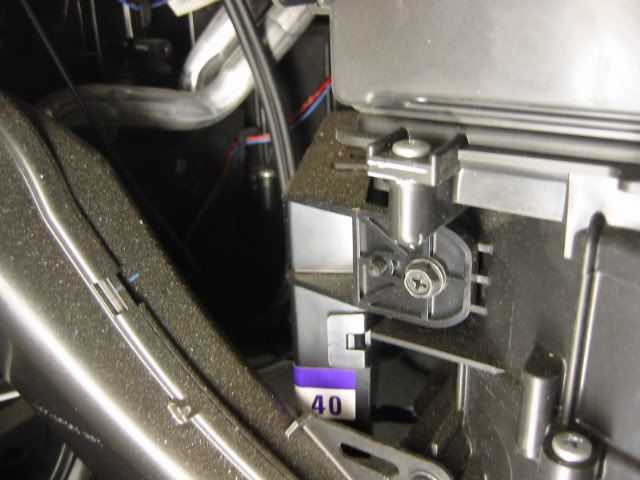 When you unplug the original ECU connections you will be working with J19. Leave Z1 aside.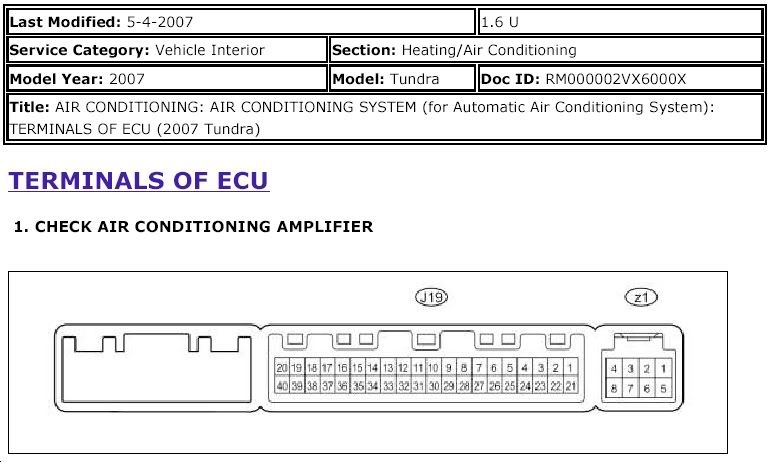 Look for J19-29 and J19-34. If you already have wires there then you can skip the next step. You should be already wired for the Thermistor and it may be tucked away on the right side of the kick panel below the steering wheel.
"Fold and stuff" an 18 gauge solid wire into these pins as demonstrated by Popo2239 in this awesome thread:
http://www.tundrasolutions.com/forums/tundra/192965-official-how-add-mpg-buttons-thread/
J19-34 needs to be run to chassis ground and then to one pin of the two pins of the thermistor. J19-29 can be run straight to the other pin of the thermistor.

At this point you can plug in your J19 and Z1 into your new ac amp and replace it where your old amp was.
You will need to somehow solder or add female ends to your newly pinned wires to connect to the back of two pins of the thermistor. I happened to find an unused 2 pin connector here:
I clipped this unused one off and attached my J19-34 and J19-29 to this. You will have to modify this connector slightly in order it to fit into the back of the thermistor. Using a box cutter or sharp knife to cut off the one side of connector that is preventing it from sliding onto the thermistor. You will see what I'm talking about when you try to plug it into the thermistor.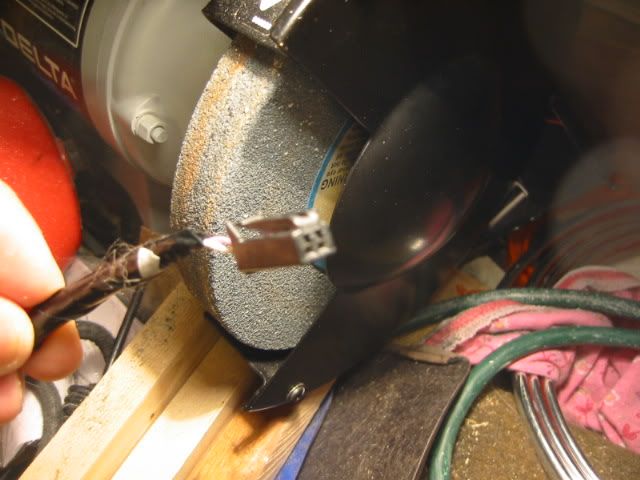 The thermistor attaches to the back side of the kick panel below the steering wheel.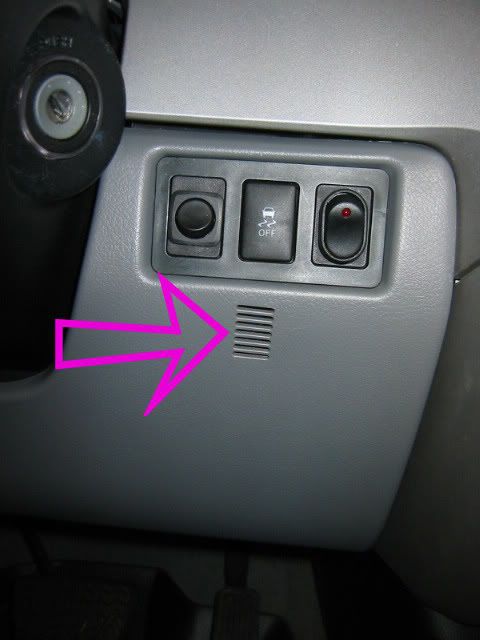 Unscrew the two 10mm bolts holding the kick panel in and pull away from the dash and it will come loose. Run your two wires behind here to connect to the thermistor with the two pin connector. After you connect your wires leave this panel open for now so that you can run your air hose to it.
Next you will need to remove the ash tray and cup holder to gain access to the area behind it. The arrow points to the section you will need to cut out to be able to install your venturi tube.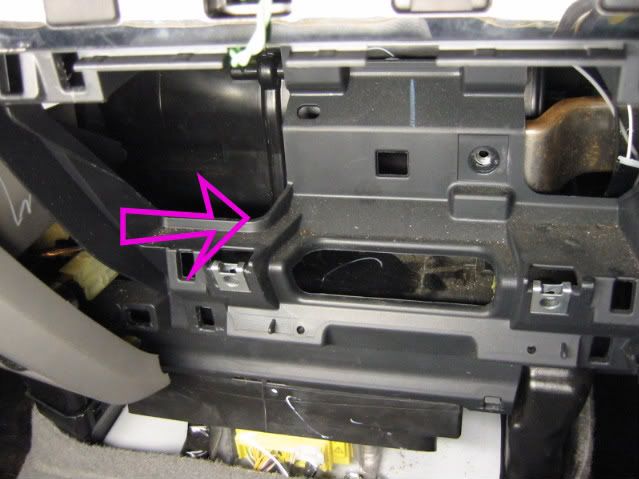 I used a multifunction tool with this attachment to cut away the section. I'm sure a regular dremel tool would work also.
this picture shows how much needs to be cut away and where the venturi tube will click into:
Now use a 7/8 drill bit, hole saw or dremel to carefully and gingerly cut out only the center portion of the area:
attach your air hose to the venturi tube (aspirator pipe) and click into the hole you just made. I put some silicone around the tube to get a better seal but I don't think it is absolutely necessary.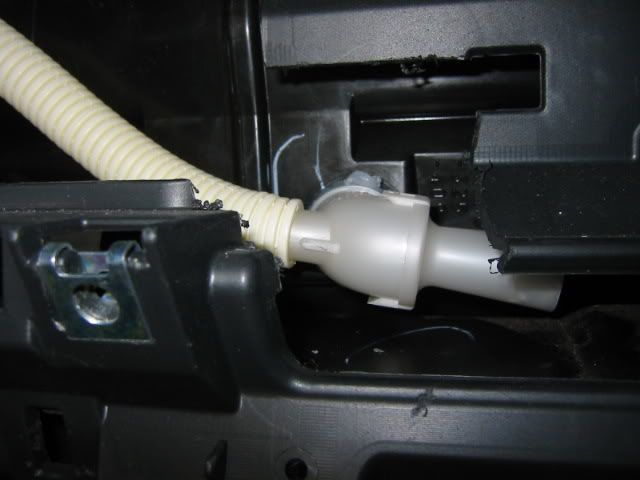 Now connect your air hose to the thermistor and click in your thermistor to the back of the kick panel and replace the kick panel, cup holders, glove box and ash tray to complete and enjoy your mod.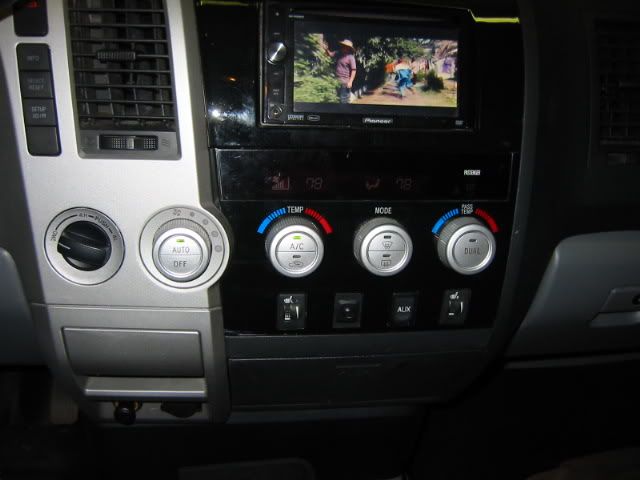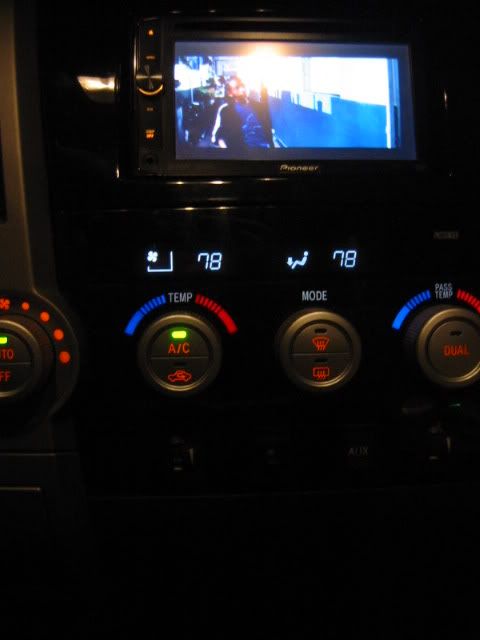 Okay here's were some extra info I discovered when I was doing my conversion.
If you do not change the AC amp(ECU) you will not have control over your fan speeds so you definitely need this part.
In my experience you can operate this in a manual-type mode.
If you only install the digital panel and AC amp you will be able to operate your panel as a manual panel. You will not be able to dial up certain temperatures. It will only blow heated air or cold air. Hot air only will blow out on any selected temperature between 75 degrees and Hi. This will be your heater mode. If you select LO on the dial the air conditioned, cold air will blow and this will be your A/C mode. In these two modes you will be able to control how much air is blown into the cabin to regulate your desired temperature.
Another observation is that if you do not hook up the venturi tube but
do
wire in your thermistor your system will operate close to normal and you will be able to dial up temperatures but there will be some lag in what you dial and what you actually feel. This is because in my understanding the venturi tube and hose is used as a vacuum to draw air over the thermistor from the cabin to help tell the ECU how much heat or cold to add to the cabin to regulate the temperature. If no air is actively being drawn over the thermistor there will be some lag in dialed temperature and actual cabin temperature.
If you decide to do this mod and absolutely cannot source a venturi tube, I could be wrong, but I do not think you will be able to fabricate one to properly create the vortex/vacuum to pull air when connected to the heater box. The solution to this is to do either one of these methods:
1. Install your thermistor and wire it up but also mount a small computer-type CPU fan behind the thermistor to pull air from the cabin over the thermistor.
2. Install your thermistor and wire it up but connect a generic tube from it and run it to the upper portion of the area where your cabin air filter goes.
Here the tube will be able to get the suction needed to pull air over the thermistor.
I'm sure someone can think of other ways to draw cabin air over the thermistor and they are welcome to share with others attempting this conversion.
One last note about the mod is that a few members have noticed that the panel will not remember its last setting after the truck is off for greater than approximately 30 minutes for some reason and defaults to the off position and 75 degrees when you turn it back on. It may not be a concern for most people but may be annoying for those who are in and out of their trucks a lot and have to reset it each time. This also may be a concern for those who have remote start and want to cool down or heat up their truck before entering. I have studied the each harness on the manual and auto ac and cannot seem to determine why it resets each time. Maybe someone can chime in who has figured out the solution to this.
A follow up mod to this would be for those who added the leather Sequoia steering wheel as I did with the audio and A/C CONTROLS. It would be great to be able to tie into the digital panel to have these buttons actually function. I imagine that the key to this would be adding the matching Sequoia digital panel and Sequoia AC amp or running the wires from the steering wheel connector to J37(connector to the back of the Digital AC panel). Any help with this would be appreciated.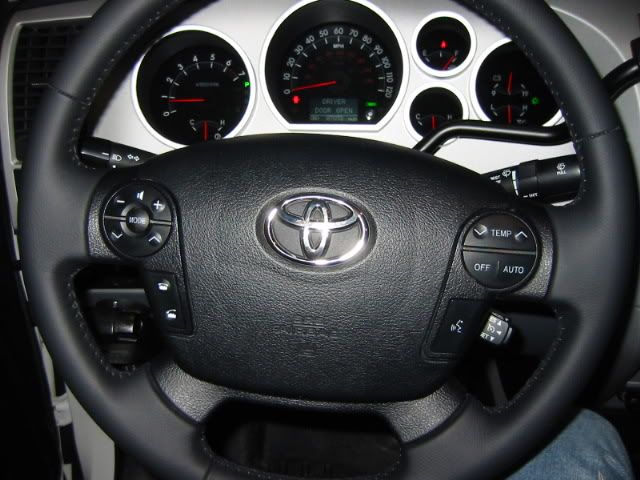 Good Luck!