Discussion Starter
•
#1
•
Well, I finally have some progress pics for you all,, so I thought I'd start the thread regarding my full air-ride suspension that AIM Industries has been using my truck for. Aim Industries,, has had my 08 4x4 RCSB for 5 weeks now using it as a template for their front Air Strut adjustable suspension as well as their rear 4-Link Air spring suspension. (towing kit)
Some of you may have been following it on another thread, but visible progress is being made now, so I'm starting a thread to cover both the progress to completion of the work, as well as a full test review to include fit/finish/quality of the components, and fabrication work. I will also give a full review of the final ride improvement (if any) during day to day use as well as towing with a significant load, and whether or not part of this suspension upgrade will have a positive effect on the wonderful drive line bump many of us suffer from.
Here goes.
I just went to "visit" my truck yesterday and Aaron was kind enough to go over the current state of my truck and the work complete up to this point.
Here are a few pics of the front air-strut as it sits in my truck. This is Aim's "lifted" 4x4 version of the Air Strut. It is built around a leveled height of +3" from OEM. The air bags are adjustable for a +- 3" from this height.
Here is a pic before any work was done…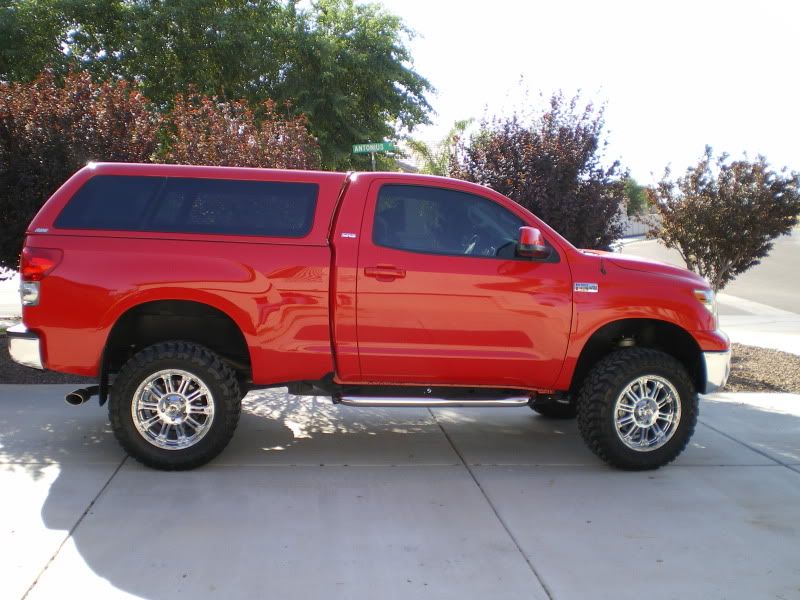 Pictured here as she was torn down to begin measurements and CAD design work.
Here is a pic of the overall "completed" front passenger side. (bags are at 0psi in all pics) I say "completed" since it is about 98% here. They still need to weld the bracket for the air line onto the frame, and install both a limiting strap and an extended bumps stop onto the front to help protect the front end from "extreme travel" conditions.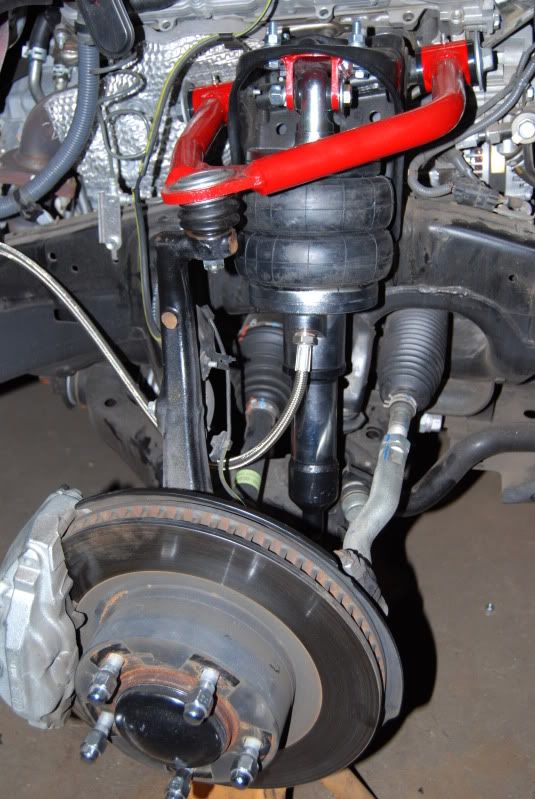 Here are a couple closer shots of the UCA Aim had to design to make the Air strut work on the Tundra front end,,, also shown is the adjustable mounting bracket that the Air Strut's top mount locates onto the Tundra with.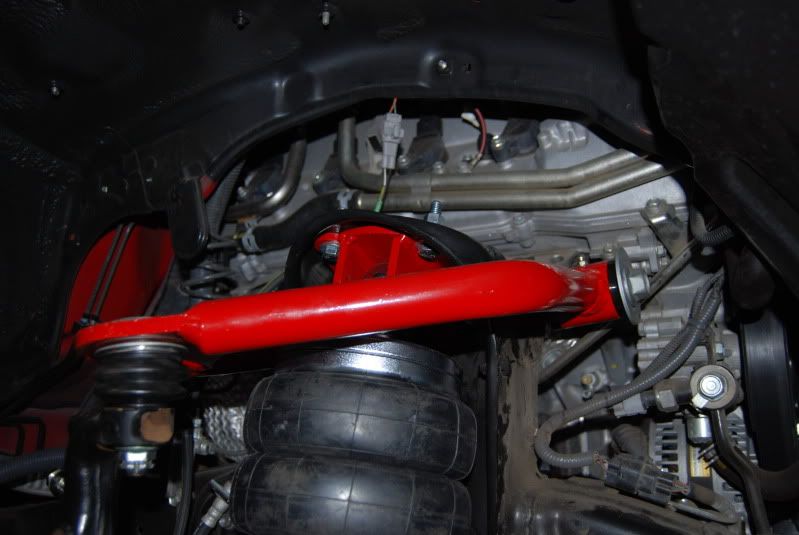 That pretty much covers the front as far as pics go. Be aware that if anyone chooses to go this route,,, you will need to re-use the ball joints from the OEM UCA's,,, Toyota doesn't supply them as a separate part to date,,, you must order an entire UCA to get a "new" set of ball joints. This set up is not the only one Aim has been building off of my truck. They also have built the needed components to install the front Air Struts onto Tundra's that are stock height, lowered up to 6", and a 6" – 9" drop that requires the use of Aim's new lower control arms. Basically, they've built the full front system for 4 different "types" of Tundra front suspension,,, that should cover what most of us will do to our trucks that are anything lower than a 6" lift.
On to the rear 4-Link… Not much here yet,, but they are on target to get my truck completed be the end of next week,, so I'll be updating this thread as I can.
Here is a pic of the mounting bracket to fix the front portion of the 4-link bars. At this point the bracket has been mocked up for fitment, bolted on and tacked. It will then be removed, welded completely so a jig may be made from it's finished dimensions to manufacture the kits after they are done with my truck. It will then be powder coated red to match the truck and installed back onto the truck.
The axle side of the 4-link will end up looking something like this…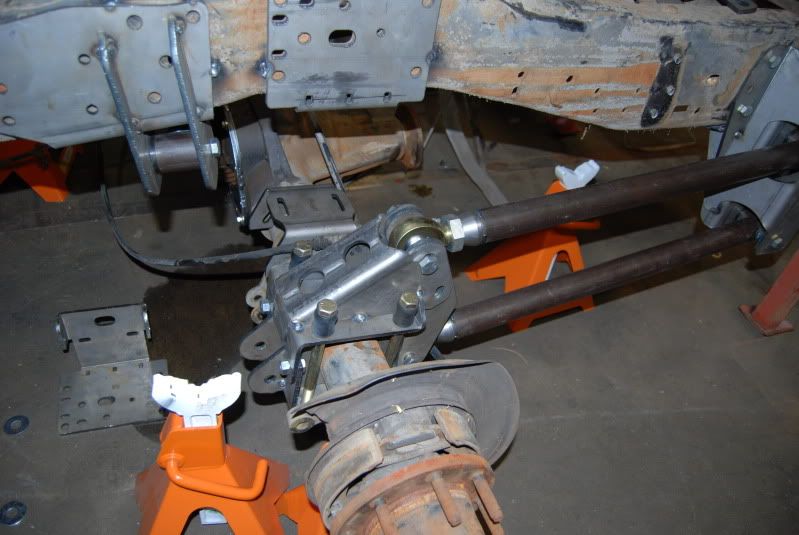 I took this pic of a truck frame that is in Aim's shop,,, It's not a roller,,, I believe it's just used as an example. I took a picture of this for reference and to show everyone the type/size of hardware Aim uses on their suspensions. This stuff is BEEFY,, I couldn't believe how,,,,, "overbuilt" it looked to me when I first saw it.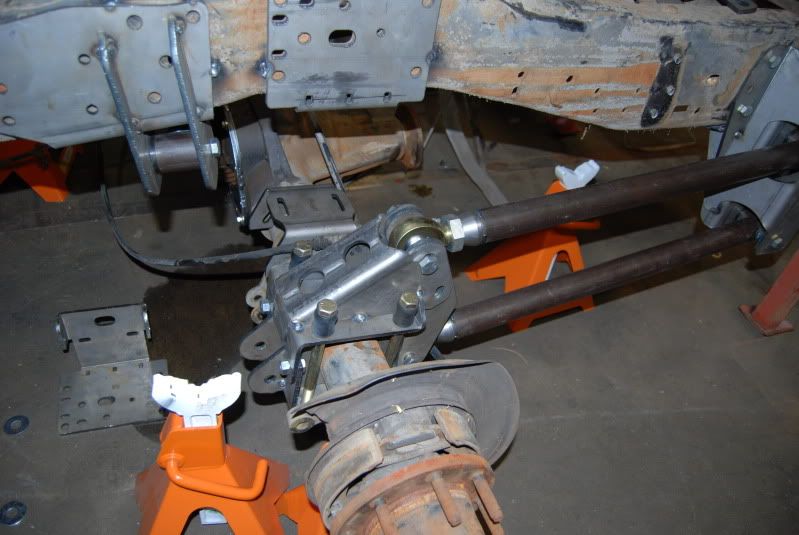 Aim uses 1" Heim Joints and ¼" plate steel on all of this type of suspension stuff. (At least on the 4-link rear anyway) The plate steel is cut in house using their massive CNC Laser and/or their CNC plasma tools. They cut it all out of 4'x8' sheet stock, bend where appropriate using some type of massive "bender/break" that I haven't seen yet, and then fully Mig weld the joints. I didn't get the dimensions/specs of the tubing they use for the 4-link arms,,, but it's pretty darn big. To give you an idea,,, these are the 1" Heim Joints they use within the 4-link suspension… So the Heim Joints you see in the above pic are these….
Pretty sure they'll hold up to anything most would throw at them!
So that's it for now. They've given me a great deal on some air controls for the truck that I will be installing after I get her back. When finished, I will be able to control and get feedback from the pressure within each bag at each corner. I will control it from within the cab via pressure gauges and control it via electrical switches. I will be installing Aim's "turn key" compressor/controls kit that will fill a 5 gal. storage tank. Since I'm already putting on-board air on her,,, I opted to order a train horn from Aim as well. I will also be tapping off of one of the ports of the tank so that I can hook up an exterior air hose that I will use for filling my truck/ATV/trailer tires when I'm at the dunes etc.
I will continue to update this post as all the progress takes place. Stay tuned.!