Discussion Starter
·
#1
·
For many months I've been debating with myself to add airbags, a spring spacer, or new springs for just a little rear lift at all times. "At all times" is key. So when unloaded, the rear sits higher than the front, when slightly loaded therear doesn't look like its working so hard, and when towing using a WDH not require so much bar tension to level the truck. Nothing major in any case, butI knew I could improve. Airbags are cheap, but one must keep tabs on PSI. New springs would work, buy they are expensive and hard to replace. So, I focused on spring spacers.

The trouble I found, even with spring spacers, was how to compress the heavy "truck" spring. Revtek told me twice to use a clam shell style compressor. I tried 2 of them, a cheap one and a $160 version. They were equally impossible to fit and get a good bit on the thick spring. I also tried external 2pc compressors, those wont fit either. But while trying all these, I noticed a good size hole on the lower A-arm and eventually stumbled on the internal spring compressor to make use of this hole, but I had a hard time finding one to fit the large spring. I finally found one, and it's amazing what the right tool can do.
http://www.amazon.com/gp/product/B003A18KCQ/ref=oh_details_o01_s00_i00?ie=UTF8&psc=1
I also took measurements to create my own spacer made to 1-1/4" lift. I got real close with my measurements, but ended up making a slight mod for the spring ID. And I learned a few things I could improve uponif I ever make them again.

They are made out of an ABS/Polycarbonate blend material and built by a 3D FDM printer by Stratasys. (I'm an engineer and oversee our machine at work). You may think plastic isn't strong enough, but surprise surprise,much like concrete…plastic has very high compressive strength. (If I made them out of aluminum, I would have been real near the cost of the revtek's based on material cost and a lots of beer for our machinist.) So here's what they looklike:


On to the job…which went fast. About 30 minutes per side.

Spring – no spacer: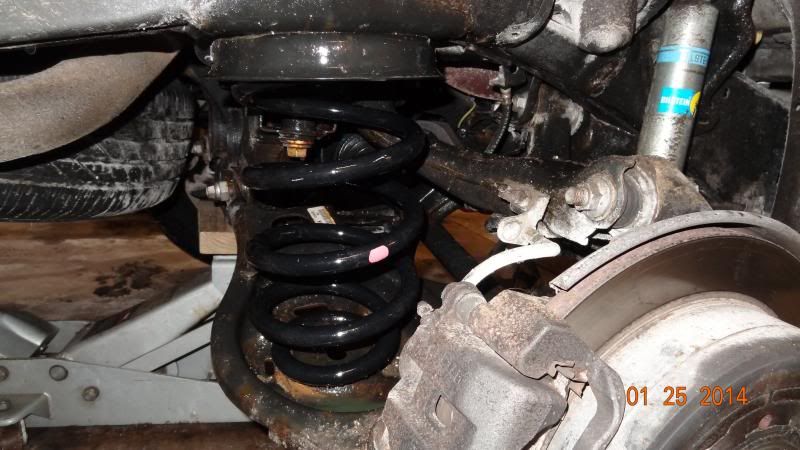 Spring – compressed by internal spring compressor. Notice the angle it is at. I had to pull this one over with a ratchet strap. The otherside I swapped the compressor arms around, as there is a long and short arm,and this was nowhere near as severe.
The wood is wedged in as shown to keep the assembly as low as possible and not move up with the compressor.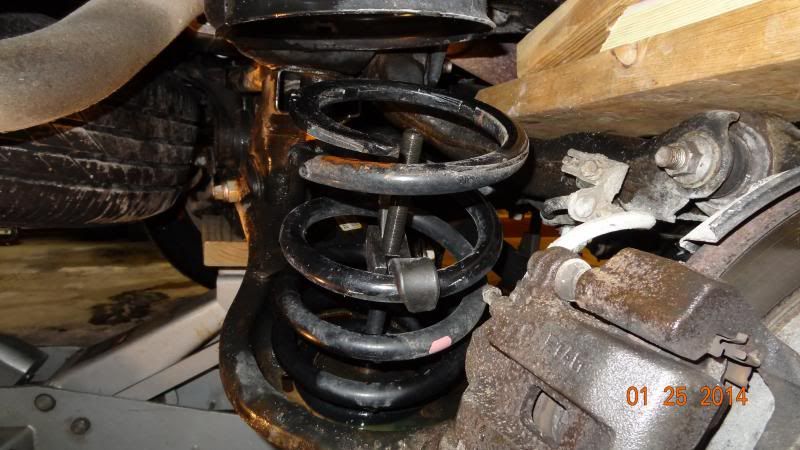 Spring with spacer installed.
Final product. Measurements come out to exactly 1-1/8" higher than original, again using a 1-1/4" spacer.