Discussion Starter
•
#1
•
Hey everyone!
We want to thank the customers and forum users that have supported us, because of your strong recommendations we have decided to seek advertising opportunities here on TundraSolutions (I'm sorry I do not know everyone's user name on here).
Since TundraPart.com just recently signed up to support the site we're kicking off an introductory sale that will last until August 31, 2010 8pm EST.
The coupon code will be available only for TS members for a discount of 10% off of everything on our site
Tundrapart – Your source for the orginal Tundra Fog Light Kit | Fog Lights
.
Coupon code:
tundrasolutions
(all lower case and with an "s" at the end)
Enter code at checkout.
*Please do not post our coupon code to other sites so that we may track the usage of this code on this site.
We are a small group that has grown due to the success of our prewired fog lamp kits that utilize an OE quality illuminated switch. We redesigned our original box in March so that customers may be able to identify our product. We are currently being sold in many dealerships in the Southwest region and are expanding every day with the help and support of our loyal customers and friends. Look for our box at your local dealerships!!!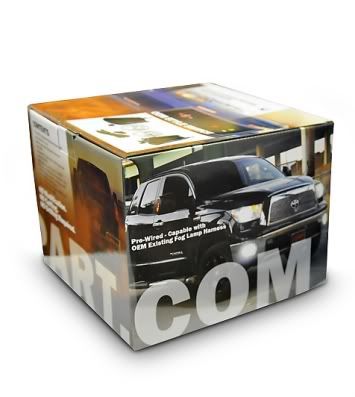 If you have any questions regarding our lights and / or installation please feel free to contact us if you ever have any questions at
[email protected]
. We have a perfect track record of answering 100% of our inquiries and have committed to helping our customers through the entire installation process. We have new products coming out shortly within the next 4-8 weeks that we're excited to release to site members first…. Again! Thank you all for everything!
-Tom